Appeal for Donation to School Fund
CEC is looking for donors to support the undertaking of School for Child Workers in Jaffrabad area of Northeast Delhi.
CEC lends support to running of Bharat Janta School Kendra (BJSK) which is a bridge school located in Jaffrabad'sMazdoorJanta colony, Northeast Delhi. BJSK registers children in the age group of 6-14 and provides them education with the aim of enrolling them into a formal government school.
Children in Janta Colony fall under four categories; children who work in karkhanas (small rooms or sheds and engaged in garment stitching and allied activities) and have never enrolled in a school, children who are neither enrolled in schools nor go for work (some of whom are school dropouts). Three, children who are enrolled in schools but work at home or in karkhanas and four, children who are enrolled in schools and are not engaged in other activities. An overwhelming majority of children in Janta colony fall under the first two categories. CEC lends support primarily to the first two categories of children.
CEC acts as an implementing agency for bridge education in BJSK. CEC's first engagement started in November 2003 and ended in March 2007. CEC's second engagement ranged from 2008 to 2010.
The objectives of engagements were:
To mainstream non-school going children to formal school system
To pressurize relevant authorities to open new schools in the locality as well to enroll children of Jaffrabad colony in the existing government schools.
To build capacity of the community and involve them in mobilising parents to send their children to schools.
To campaign for Right to Education, health and other basic needs.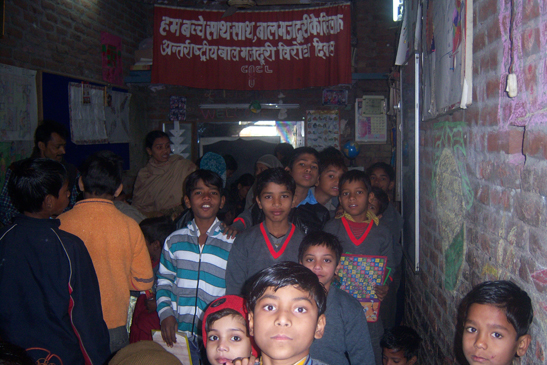 In its next round of engagement, CEC is seeking fresh donations to assist BJSK. The project cost is Rs10 lakhs for a period of one year.
CEC thanks all its donors for their financial support.
Pay using: - (a) Cheque (b) Debit / Credit Card (b) Net Banking